Tomás
Tomás And The Magic Race Cars
is a magical tale about Tomás Gutierrez, a Mexican-American boy living an idyllic life with his family, friends and beloved pets. But when his Mamá tells him she is divorcing his Papá, it throws his life into a tail spin. Tomás goes searching for answers to the sadness he finds he can't escape. He eventually finds them in the most unlikely place.
When his abuelo takes him to visit Seńor Eduardo Garcia, abuelo's mysterious best friend living at the end of the block, the magic begins. What Seńor Eduardo García tells Tomás will forever change his life. What Tomás learns will change your life as well.

You can find Tomás And The Magic Race Cars at Amazon.com.


---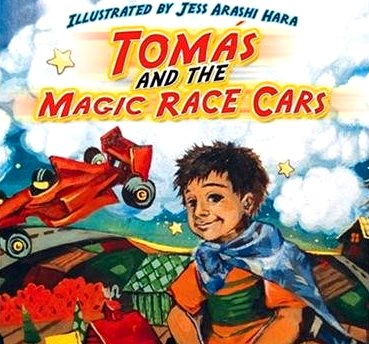 Testimonial
"'Follow what you love,' Señor Eduardo Garcia tells Tomás in Ramón Mesa Ledesma's children's book, Tomás and the Magic Race Cars. 'There is magic in what you love.'
Surely enough, there is a bit of magic in Ledesma's heartfelt story of a nine-year old boy, whose life changes drastically over the course of just a couple months."
Emma Fierro
Reporter
Daily Sun News