Migrant Earth
Migrant Earth
is the sequel to Migrant Sun. The boy is older now, more mature but no more understanding of his family's plight than his early years. His maturity lends more insight and depth to his experiences but his poems and stories are no less affective chronicling his family's journeys across the landscape of summer harvests.
---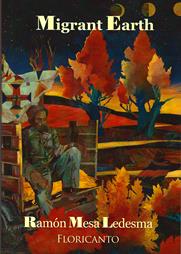 In The Beginning…
Of my beginnings I recall flashes: ancient images like cracked pictures in faded black and whites on dusty shelves abandoned to the quiet passing of time. I see scarred, brown faces, glimpses of unknown places and mysterious spaces: a night-street, illuminated by a defused, pale, yellow light, an old, abandoned pickup parked beside a filling station, a man's grease stained face peering out a grimy window into a lonely, vacant night, an emaciated dog wandering an alley of forgotten, rusted car carcasses and the odd image of a menacing butcher knife impaled above the inside of a door of a shack. Solitary images standing without narrative, life or meaning. Without voices, they offer but brief windows into time before awakening, awareness, questioning and understanding. They place me in silent moments among the echoing shadows of time. Seeking explanation, finding none, they return in vulnerable darkness of sleep.
The White Boy…
Memory is a fluid thing, even when it's young. Throw in emotions and the passing seasons, and it flows like a meandering river through the light and dark places of my mind. At some point in the passing of time you begin to question the memories: what was said, by whom, and even the place in time. But even after many years, I don't question the eyes. They seem indelibly etched in the memory of a ten-year-old Mexican boy: the eyes of the hungry, white boy who came to dinner one balmy summer evening and stayed a few months. I remember the desperation I saw in those eyes. Sometimes late in the evening when I'm reading, I look out the darkened window beside my bed and I can still see their pale blueness reflecting back at me. I can still feel them. Hungry eyes never leave you.
Driveways and Hallways…
By the early 1950's my padres had saved enough money to stop their migrant wanderings and buy a thirty-acre farm in rural Outlook, Washington. To us it was like reaching the proverbial Promised Land. Not that God had led my padres out of Mexico and promised them sanctuary—but hard work, diligence, and sacrifice ultimately had their own reward. It had been too late for four of my older siblings who died in childhood along the way. Their untimely deaths and our safety had to have weighed heavily on my padres' minds when they bought the farm. For the moment, the future appeared safe within the confines of a piece of land we could call our own. This was when the word home first entered out family's lexicon. It had been a long time coming. Neither of them had seen home, as in permanent ownership, ever.
Migrant Earth
With hoe, back and sacrifice
We attempted to impose our will
Upon this migrant earth we lived with.
And as we aged,
The passing of the seasons
Rewarded strength and youth.
And it was plus one
And minus one,
In life through the seasons:
A life without reason.

Some years when the balance
Of elements was benevolently aligned,
The harvest was full and rich.
But others…
When the frigid winds colluded
With the drenching rains,
The moon and stars
Turned against us.
And it was plus one
Or minus one,
In life through the seasons:
A life without reason.
Sometimes it felt like treason.

Sometimes we watered
With our tears.
Sometimes we fed it with our flesh.
Sometimes in fear
We cursed it,
But in the end, like parent and child
Together we grew enmeshed.
And comes a time
When strong hands
Become weak and arthritic:
When our gait slows
And eyesight dims:
When all we've built
Turns to seed and weeds
And the children of our loins
Leave and don't return…
Then all that will remain,
All that we will have
Is the earth…
And the earth will
Welcome us,
Take us home
Into its cold embrace,
And it is there
In our final rest
We'll find our
Eluded peace.
Migrant Earth.
Testimonials
"Ramon Ledesma's Migrant Earth is an honest, searing account of one man's childhood as a middle-child in a mother-led migrant family in the 1960's Northwest. As Ledesma states, "Our future germinated in the fields and was harvested in the classroom." Ledesma alternates prose and poetry to unflinchingly describe the hardships faced as he and his siblings worked to contribute to the financial survival of their family, and the emotional toll it extracted. The hopes and fears that developed in his young life and carried into his adult life can be found in his expressive lines. This book is a window into life behind the migrant camp doors."
Ann Bodle-Nash
Writer, Radio Interviewer
Indieitpress.com
"Ramon Ledesma has written an anthem to hope, the noun — something to which we simultaneously cling and are drawn, like the promise of sun beyond the horizon — and to hope, the verb — the sharpening of our hoes, the digging-out of our best selves, the bearing of our crosses, the ends of our rows."
Jeremiah O'Hagan
Staff Writer
Stanwood/ Camano News
"Ramon Ledesma again invites readers into the world of his youth as a migrant worker through evocative poetry and prose. In stories both heartbreaking and bursting with joy, Ledesma deftly shares his family and life experiences in imagery so vivid and words so powerful you will feel like you were there. The visit into his world is a journey well worth taking."
Laura Gjovaag
Daily Sun News – Reporter
LGjovaag@DailySunNews.com